全個課程100%以網上學習為主,首先修讀QUALIFI 第4及第5級文憑課程,之後直接進入University of Sunderland修讀商業管理(榮譽)文學士學位BA(Hons)Business and Management 完成課程及畢業後可取得University of Sunderland 頒發商業管理(榮譽)學士學位,課程可以Part Time形式修讀。
課程目標
This Bachelor's Degree (Honours) in Business and Management programme will ensure you have a strong grounding in the fundamentals of business such as strategy, operations and logistics, human resource management and marketing. This will provide you with the widest range of transferable business skills leading to you being a well-rounded graduate.Study in Hong Kong campus facilitated by Hong Kong based academic and student support teams
The focus on employability modules complements the broader skills that you'll gain in understanding how businesses create success, how to manage business operations, how to make informed decisions and how to lead change in organisations.
課程名稱
BA (Hons) Business and Management (Year 3 / Final Year)(NCR# 252466)
修讀模式
Stage 1: 100% online Learning
Stage 2 : Online or Face to face
評核方法
All Assignments
頒發機構
University of Sunderland
大學排名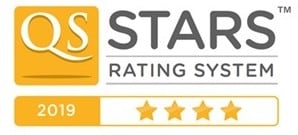 課程內容
Qualifi Level 4 Diploma in Business Management
The Level 4 Diploma provides an introduction to the main facets and operations of organisations. It introduces the challenges faced by modern day businesses. The qualification focuses on developing understanding, skills and abilities to equip the Learner with the awareness and aptitudes to be an effective organisational manager and leader. The qualification is made up of 6 units.
》 Communications in Organisations
》 Leadership and the Organisation
》 Financial Awareness
》 Managing Change
》 Business Operations
》 Developing Teams
Qualifi Level 5 Diploma in Business Management
The qualification deals with complex and challenging organisational issues and opportunities. The units are closely linked to current day real world and work challenges and the qualification will test and develop learners' workplace experience and abilities.
》 Responding to the Changing Business Environment
》 Effective Decision Making
》 Business Development
》 Business Models and Growing Organization
》 Customer Management
》 Risk Management and Organization
BA (Hons) Business and Management (Year 3 / Final Year)
Global Entrepreneurship and Innovation (20 credits)
Strategic Corporate Finance (20 credits)
Managing and Leading Change (20 credits)
Marketing in a Digital World (20 credits)
Strategic Management (20 credits)
Developing the Reflexive Practitioner (20 credits)
修讀流程

入學要求
Stage 1
HKCEE / HKALE or HKCEE with at least 2 year's work experience
Stage 2
Holder of a Higher National Diploma (HND) in Business (Marketing); OR
Applicants who are holders of Higher Diploma/Associate Degree in Business / Marketing or equivalent are considered on a case by case basis; AND
English proficiency of IELTS 6.0; GCSE Grade C or equivalent.
Other students without the above qualification are considered on a case by case basis or can enter the final year top-up programme via HND pathways.
Candidates whose first language is English or whose previous verified qualification was taught and assessed in English are exempted from the aforementioned English Language requirement.
關於我們
藍駿教育 Pioneer Education 為有意繼續學習的人仕提供一個專業的網上學習平台,你可以隨時隨地通過網上學習課程: 包括有文憑、學士學位、碩士學位(MBA & MSc)及博士學位。
藍駿網上商業學院 (藍駿教育轄下機構) 是QUALIFI & OTHM的認可中心,QUALIFI & OTHM 受英國政府 『資歷及考試局』Ofqual – Office of Qualifications & Examinations Regulation)認可及規管,學員可通過藍駿網上學習平台學習Level 4&5 Diploma 課程資料。
我們提出一系列有關工商管理、市場營銷、人力資源、風險管理、項目管理、物流管理、國際商業法律、會計金融、資訊科技的網上學習課程,我們承諾會繼續開發更多的高等教育及專業課程,以滿足社會的需求。對於上述課程有任何疑問,歡迎與我們的課程顧問聯繫Contact Us,電話:+85234899627