全個課程100%以網上學習為主,首先修讀QUALIFI 第4及5級文憑課程,之後直接進入中央蘭開廈大學university of central lancashire (uclan) 修讀BSc (Hons) Cyber Security and Networking完成課程及畢業後可取得university of central lancashire (uclan) 頒發BSc (Hons) Cyber Security and Networking,最快12個月完成。
Programme Objective
The programme aims to equip graduates with the knowledge, technical and interpersonal skills necessary for taking part in the design, implementation, management and security of modern computer systems. It will enable them to work as professionally-minded cyber security practitioners able to meet the responsibilities and challenges demanded in the cyber security industry.
By working in partnership with CompTIA, graduates of this programme will be offered the opportunity to achieve an additional professional IT certificate in either Cyber Security (CySA+) or Cloud Infrastructure (Cloud+).
Course Title
BSc (Hons) Cyber Security and Networking
Study Method
Online Study (Distance Learning)
Awarded by
University of Central Lancashire (uclan)
Ranking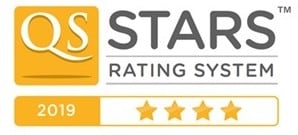 Programme Modules
Qualifi Level 5 Diploma in Cyber Security
The qualification has been created to develop and reward those learners who are looking to or already have chosen a career in a business-related sector. We hope that centres and learners take the opportunity to learn a great deal from this programme that will provide relevant new skills and qualities. It is envisaged that this programme will encourage both academic and professional development so that your learners move forward to realise not just their own potential but also that of organisations across a broad range of sectors. The Diploma is accredited at Level 5 with a total equivalence of 120 credits. It is envisaged that learners completing this Level 5 programme will progress to a university Level 6 Top-Up programme in the risk management field.
Stage 2: BSc (Hons) Cyber Security and Networking
》Advanced Database Management Systems
》Corporate Communication Systems Management
》Cloud and Virtualisation Security
》Cyber Security Management
》Information Systems Projects
Progression Pathway

Entry Requirements
Your existing educational qualifications and work experience will be directly taken into account, allowing for module exemptions whenever possible. If you would like to know further, please feel free to contact us.
About Us
藍駿教育 Pioneer Education 為有意繼續學習的人仕提供一個專業的網上學習平台,你可以隨時隨地通過網上學習課程: 包括有文憑、學士學、碩士學位及博士學位。
藍駿網上商業學院 (藍駿教育轄下機構) 是QUALIFI & OTHM的認可中心,QUALIFI & OTHM 受英國政府 『資歷及考試局』Ofqual – Office of Qualifications & Examinations Regulation)認可及規管。
我們提出一系列有關工商管理、市場營銷、人力資源、風險管理、項目管理、物流管理、國際商業法律、會計金融、資訊科技的網上學習課程,我們承諾會繼續開發更多的高等教育及專業課程,以滿足社會的需求。對於上述課程有任何疑問,歡迎與我們的課程顧問聯繫,電話:+85234899627
#遙距課程degree #新加坡升學 #香港part time degree #海外遙距課程